What are Uterine Fibroids?
Uterine fibroids are benign tumours
---
Uterine fibroids are benign growths of the uterine muscle occurring in 30-40% of women. The aetiology of fibroids remains the subject of research but genetics is an important factor the condition being more common in Afro Caribbean women. The tumours are sensitive mainly to oestrogen and progesterone. Most fibroids do not cause any problems and do not require treatment. Some fibroids, however, can cause heavy periods which can lead to anaemia and debilitation, or if the fibroids grow large they can lead to 'compression syndrome' in which adjacent organs may be compressed such as the bladder leading to frequency of urination, the bowel leading to constipation and bloating. Fibroids may press on nerves causing backache and sciatica and can cause cosmetic unsightliness by bulging the abdomen.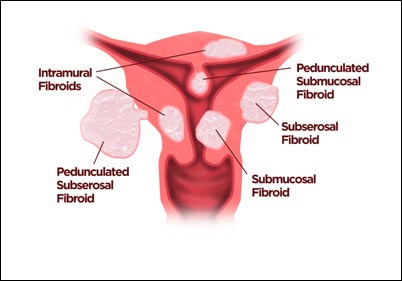 The usual treatment for fibroids is hysterectomy which is carried out in approximately 30,000 women a year in the UK and 180,000 in the US.
Can You Shrink Uterine Fibroids Naturally?
There is a concept amongst some of the public that natural cures are to be preferred to scientific ones. The psychogenics of this concept are interesting but we will simply discuss some of the facts. When people talk about natural cures they usually mean some herbal substance which is ingested. Herbal medicine for example has been around for thousands of years and, of course, along with other ancient medicines such as ancient Chinese medicine, Ayurvedic medicine etc.
What people need to realise is that these medicines did not work and most people with any form of serious disease died. Then came scientific medicine, which developed particularly in the nineteenth century, accelerating in the twentieth century, when people started living and surviving serious diseases and less serious diseases and chronic diseases were effectively treated. There is no evidence whatsoever that any so called 'natural' cures ie imbibing various substances, possibly with hormonal effects, have any effect on shrinking fibroids whatsoever apart from anecdotal evidence which is completely and utterly scientifically worthless. It would be very easy to determine whether a substance shrinks fibroids; you would simply need to carry out 10 MRI scans on 10 people, get them to ingest the various substances and rescan them after say 6 months to see whether their fibroids have shrunk. It would be an easy exercise but a futile one as any practitioner of scientifically based medicine would know.
Today fibroids can be effectively treated using the scientific treatments available. There is no need for patients to waste their time and money on so called 'natural' treatments to shrink fibroids.